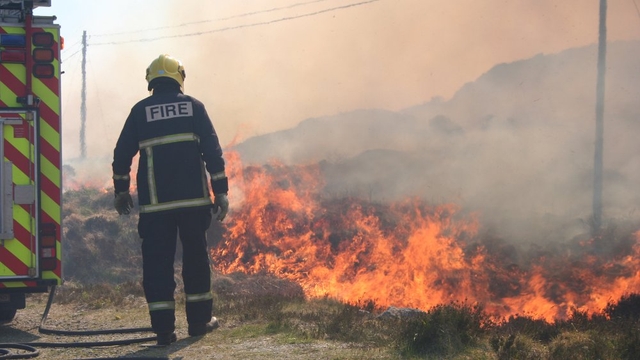 Some eejits think it's funny to set whin bushes on fire. There's a been a spate of gorse fires around the country, including Donegal:
http://www.rte.ie/news/2011/0501/donegal.html
Fifty troops were deployed in Donegal and north-west Mayo and an Air Corps helicopter, equipped with a bucket, flew missions to drop 1,200 litres of water at a time on the fires near Dunloe ...

Ten units of the fire service are tackling a large gorse fire between Lettermacaward and Dungloe in west Donegal ...

Four houses in the area were evacuated and fire fighters have requested the assistance of the army.

The Donegal Fire Service has said the blaze was started maliciously.
I've also heard from friends that there's a fire somewhere near Ballyshannon or Bundoran, probably started by copy-cats. RTE has some video
here
of the fires in Dungloe.
An update from
Donegal Daily
:
http://www.donegaldaily.com/2011/05/02/11pm-update-army-sends-in-troops-and-choppers-as-gorse-fires-threaten-dungloe/
Already thousands of acres of gorse and forestry have been burned around Dungloe, Lettermacarward and Doochery since the fire started yesterday.

There are also serious fires round Fanad with hundreds of acres scorched there too as firefighters try to keep that blaze under control.

Exhausted firefighters are now out at the scene for more than 24 hours at the blaze at the general Upper Rosses area ...
A number of families have already been evacuated from homes across the region as more than 100 firefighters tackle the blaze.

A spokesman for the fire service said they now believe the blaze was started deliberately.

At least one property is believed to have been destroyed already but there are no reports of any casualties ...
Hundreds of locals have also been working throughout the night to protect their properties and to assist in trying to put out the fire.

Motorists are also being advised to avoid the area at all costs, especially the N56, which is covered in dense smoke.

A lot of wildlife is also believed to have perished during the blaze.