Michael & Nathalie Cannon and their family were recently on TV in the RTE show "
Families in the Wild
". The Democrat has an article about it at:
Following last years success of 'Teens in the Wild', clinical psychologist David Coleman is back with a new show based on a similar concept, but this time he has extended his advice and therapeutic work to the whole clan. Families in the Wild sees David (the Irish Dr. Phil), taking three individual families, including the Cannons, away from the stresses and pressures of daily life to the isolation and tranquility of the Kerry wilderness for a week of activities and therapy.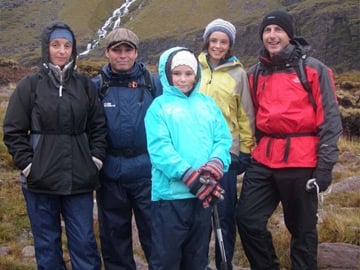 The Cannons on their exploration of the wilds.
I hope ye all had fun, and it was a worthwhile adventure! :)
If your in Ireland you can watch the episode for a limited time on the RTE player at:
Original Posting at Donegal Friends.